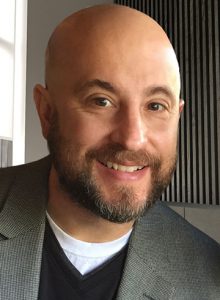 Daniel Martinelli, principal at Cohoes Middle School, has been named Assistant Superintendent for Educational Services. The Cohoes Board of Education appointed Mr. Martinelli at its Aug. 11 meeting.
"Mr. Martinelli's commitment to educational excellence and innovation as well as his extensive knowledge of the district make him a stellar candidate for this position," said Superintendent of Schools Peggy O'Shea. "We are very excited to welcome him in this new role."
Board President Margaret Giller commended Mr. Martinelli's dedication to the district.
"Mr. Martinelli has been an integral part of our school community for many years, and we are excited for that to continue," said Mrs. Giller. "His impact on student achievement and commitment to parent engagement has driven our middle school to be a place of learning and inclusivity. We are excited to support both Ms. O'Shea and Mr. Martinelli in working toward the District's continued growth and success. We offer both him and his family warm congratulations in this next stage of his career."
Mr. Martinelli has been principal at the middle school for 12 years, and previously served as CMS assistant principal/director of data and instruction for three years.
As principal of Cohoes Middle School, Mr. Martinelli was instrumental in developing a multi-tiered Response to Intervention (RtI) program schoolwide, with an emphasis on delivering three tiers of intervention to at-risk students. In addition, he helped the district introduce Google for Education and led a collaborative launch of Schoology, a robust learning management system. He also established a Middle School honors program for science, English language Arts and social studies, and expanded the Middle School honors math classes.
"I am thrilled to continue serving the students, parents, teachers and the support staff of the Cohoes community in my new capacity as the Assistant Superintendent," said Mr. Martinelli. "I can't wait for our students to get back to school. We will work diligently together to move kids forward."
Prior to joining the Cohoes team, Mr. Martinelli was achievement director at the New Covenant Charter School in Albany. He previously taught middle school math and high school social studies in inner city schools in Massachusetts and New York, and completed a year of AmeriCorps National Service as a teacher and case manager for high-risk youth.
Mr. Martinelli earned his master's degree in urban education through Springfield College and his certificate of advanced study (CAS) at the College of Saint Rose. He completed the Future Superintendents Academy through the Leadership for Educational Achievement Foundation.
A CASDA Principal of the Year, Mr. Martinelli is a member of CASDA's Principal Center Board for the past eight years and currently serves on the Board of the Albany County U-Can Mentoring Program.
Mr. Martinelli and his wife, Christine, have three school-age children.