We hope this page assists you with locating necessary resources and supports in and around Cohoes.  Please feel free to reach out to Raychel Marcil, director of Multi-Tiered Systems of Support for additional information. She can be reached at 518.237.0100 ext. 2320 or email her at rmarcil@cohoes.org.
CCSD Community Resource Guide
This guide was created for families to have a listing of community resources at their fingertips. It includes the contact information for support staff in each school and an array of resources in our community and the surrounding areas.
Cohoes Community Resource Guide.
The Mental Health Association in New York State, Inc. (MHANYS) 
Developing healthy coping strategies is not an innate ability and as children continue to grow, there are some ways parents and caregivers can assist in helping them obtain good mental health habits.
Supporting mental health at home.
Bashant Parents As Partners Webinar Series
This year, the Cohoes City School District has partnered with Building Better Futures founder Dr. Jennifer Bashant to bring families free, one-hour, monthly webinars focused on an array of parenting topics.
Each of these virtual presentations will be recorded, so even if you are unable to attend live, you will have the opportunity to watch the recording for 30 days after each webinar using the password that will be provided upon registration. Please note: You will need to register for each webinar separately. 
Upcoming webinar on December 7:   Mindfulness-Informed Parenting: Learn the Basics for Introducing Mindfulness
Presenter: Dr. Paul Pineiro, Assistant Superintendent of Westfield Public Schools, New Jersey
During this webinar, participants will learn the basics for introducing mindfulness practices to their child/ren. Whether it's differentiating breathing, regulating busy thoughts, or establishing a mindfulness routine for taking a break from devices and screen time, mindfulness practices can help build emotional resilience in a time where overwhelm and anxiety are common challenges for young people. In addition to providing background on the science behind mindfulness, this session's experienced panel will also share the strategies they have used in their teacher and parent roles so participants can leave with a foundation for being a mindfulness-informed caregiver.
Register in advance for this webinar
After registering, you will receive a confirmation email containing information about joining the webinar.
COHOES HOLIDAY HOPE
Since 2014, the district has collaborated with the city and other community partners to offer 'Cohoes Holiday Hope' for families in need during the holiday season. The program offers families the opportunity to earn "holiday bucks" which they can use at the Holiday Hope store to purchase gifts. The store offers a discount of 75 percent off the regular retail price of items.
Parents and guardians can earn "holiday bucks" by attending community events, workshops, and/or volunteering. Attending the Cohoes Fall Festival or Halloween parade, participating in Cohoes Bridges out of Poverty classes, and even attending their school open house or PTO meetings are just some of the ways parents can earn Holiday Bucks.
Families must first apply to be a part of the program.  Once an application is reviewed and accepted, the family receives a passport to track the "holiday bucks" they earn.
2023 printable Holiday Hope Information Sheet
2023 printable Holiday Hope Application
Click here for more information.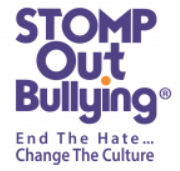 Stomp Out Bullying is the leading national non-profit dedicated to changing the culture for all students. Learn more here.