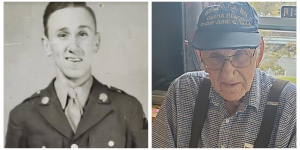 More than 30 Cohoes High School students recently penned letters to a 97-year-old World War II veteran living in the Capital Region.
As part of a project in Dave DeSorbo's American Literature and Professional Writing classes, students learned about and then wrote letters to United States Army veteran Harold Williams. Mr. DeSorbo learned of Williams' decorated military career from a former colleague.
"I wanted my students to see a real life example of humility, integrity, and the true meaning of sacrifice," DeSorbo said. "I wanted them to see that, through effort and commitment, a person can persevere through even the most difficult situations."
According to Williams, he joined the army in 1942 and became a technician, earning the rank of TEC-5. He was assigned to the 62nd Armored Field Artillery Battalion, which provided support to the 1st Infantry Division. Williams accompanied the 1st Infantry Division for a number of significant WWII military operations and campaigns including the Invasion of Sicily, the D-Day Invasion and the Battle of the Bulge.
Williams was honorably discharged in 1945 and worked for the U.S. Post Office in Valatie, NY for most of his career. He now resides with his wife at a long-term nursing facility in Albany.
After sending the letters from his students, Mr. DeSorbo had an opportunity to speak with Williams over the phone.
"He wanted me to thank the students for their thoughtfulness, their letters (of which he has kept every single one), and he wishes he could come and visit the school to thank them personally. He wanted me to pass a message along to the students about the importance of doing the right things and making the right choices in life, no matter how difficult that may be," DeSorbo said.