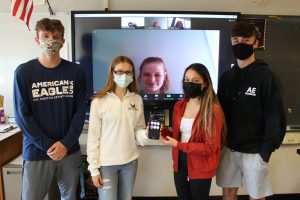 Students in Laura Murawski's human anatomy and physiology class at Cohoes High School learn about not only the structures and functions of the human body, but also how to keep it healthy. They are taking that knowledge and looking to help support a healthier community.
The six students – seniors Jessica Pucci and Troy Snyder, and juniors Madison Huneau, Madelyn Mantica, Olivia Marquez, and Austin Smith – spent several weeks this spring creating the Cohoes Health & Fitness app. The app features resources geared toward helping people from a range of ages and lifestyles maintain their physical and mental health.
The students began the project by familiarizing themselves with Glide, a platform for building web-based apps. Then they began searching for content. According to Murawski, everything included in the app was meticulously vetted.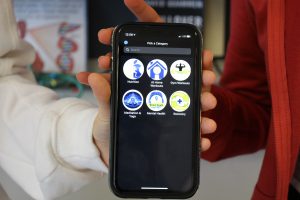 "They had to compile resources and then rate and evaluate each one," she said. "They're all athletes, and they were bringing in resources that they use in their own training. There's so much out there, so it's nice that they can point to ones they actually find useful."
Once the students had a sufficient amount of content, they organized the app into six categories: nutrition, at-home workouts, gym workouts, meditation and yoga, mental health and recovery.
"It's something that anyone can easily use and navigate," Snyder said.
With many gyms shuttered during the COVID-19 pandemic, the students said they felt it was critical to include an at-home workout section, which would also be beneficial to those who just may not have a lot of time to exercise.
"It's inclusive, simple to use and helpful for all ages," Mantica added.
The class hopes to collaborate with the district's athletic department to create a section with sport-specific workouts. Murawski said she believes the app could be an ongoing project that anatomy and physiology students build on each year.
"It's multi-faceted and has room to evolve," she noted. "They'll learn the science, how the body works and how muscles are built. But there's also the collaborative effort of building something that is useful for the community."