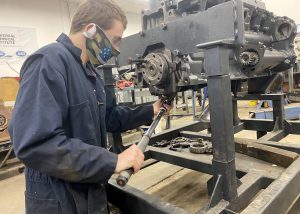 One would think it is virtually impossible to repair an engine without seeing it, but don't tell Jeremy Mayville that.
The Cohoes High School junior is adamant that he will fulfill his dream of one day earning a living as a diesel mechanic and he chose the Capital Region BOCES Career and Technical School to help him fulfill that dream.
"I have been into working on trucks since I was like seven and I started doing it with my grandpa. It's something I am going to do for a living," said Mayville during a recent break from turning wrenches in the Diesel Tech lab on the Albany Career and Technical School campus.
Mayville reports to the class each day and is told and shown by teacher Sam Frink how to make a repair and then he repeats it in front of the teacher.
"I can see nothing; I have to use my other senses," Mayville said. "But Mr. Frink shows me and tells me what to do and how to do it I and just I figure it out."
A quick Google search will show that there are only a few people in the world that have overcome such dramatic odds to accomplish this goal, but that isn't stopping Mayville.
"People ask me 'how do I do it?' and I tell them 'I do it just like a normal person. You can do anything you want'," Mayville said.
Mayville, who has been blind since he was seven years-old, said he relies on his other senses – touch, smell, etc. – to accomplish the same tasks that his sighted classmates do.
"You can still repair engines … you just have to use your other senses. I just learned how to do it and come in here every day and do it," said Mayville.
Mayville said he goes home from school and practices his skills with is grandfather, Jeffrey Deveo, and will one day turn this passion into a career.
"I am going to own my shop one day," he said confidently.
Frink said the student has the right attitude to accomplish anything he wants.
"He is a good kid and has a good attitude He is doing quite well," he said.