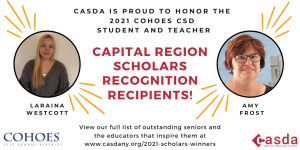 Cohoes High School senior Laraina Westcott was recently named a 2021 Capital Area School Development Association (CASDA) Scholar.
Laraina was nominated by CHS guidance counselors.
"Laraina is a very determined, highly motivated, intelligent, and hard-working young lady who is always challenging herself in the classroom. She will be graduating high school with her Advanced Regents with Honors diploma along with a Mastery in Science designation. Laraina has spent her senior year of high school taking all of her core courses at Hudson Valley Community College. She will be graduating high school with 61 college credits," the nomination noted.
As an honoree, Laraina was able to select a teacher who made a significant impact on her education. She picked French teacher Amy Frost.
"Mrs. Frost grew a strong connection with me throughout many years, which made her influence on my education and growth as a person strong and impactful," she said.