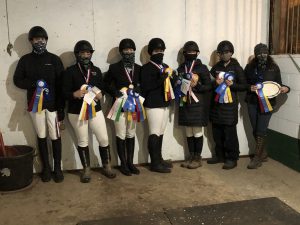 Cohoes High School junior Olivia McDonald is headed to the dressage national championships.
McDonald is part of a six-person team that placed first in the Regional Upper School Championship on Dec. 12 in Skaneateles.
Dressage is a form of horse riding in which the rider and horse are judged on how they perform a predetermined series of movements. McDonald competes as a member of the Interscholastic Equestrian Association (IEA), which gives students in grades 4-12 the opportunity to ride in team and individual equestrian events.
"It's really exciting. I've been riding since I was three, but dressage is relatively new for me," McDonald said.
McDonald's team rides for North Country Horses, based in Gansevoort, NY. At the regional competition they finished tied for first, but won on a tiebreaker determined by the number of first place ribbons captured throughout the event.
"It was stressful because we knew it was close, but didn't know the exact standings," McDonald said.
The IEA Dressage National Finals are scheduled to be held on May 15-16 in Tyler, Texas.