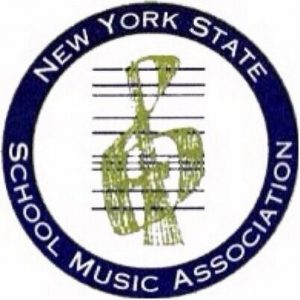 Recently, students from Cohoes Middle and High School participated in the New York State School Music Association (NYSSMA) solo festival at Guilderland Jr. High School, along with dozens of other schools. 
Students performed a solo in front of a judge ranging in difficulty from levels 1-6. They are judged based on the level of difficulty, scale preparation and sight reading. 
CMS/CHS Band Teacher Jennifer Ballard and CHS Chorus & Performing Arts Teacher Christian Gunn discussed NYSSMA with the kids shortly after winter recess to gauge interest. If a student chose to participate, they worked with their teacher to decide on an appropriate piece to prepare. 
"NYSSMA is not an easy task," said Mr. Gunn. "The students do all of the preparation on their own, including learning the music." 
According to Mrs. Ballard, beginner band students will be a level one or two, with level six being the highest which is comparable to college audition level style of music.
The opportunity to participate in NYSSMA gives students the chance to perform for someone other than their teacher and family. 
"It gets them out of their comfort zone and teaches them how to work hard to prepare for a solo that is not related to their usual band or music class," Mrs. Ballard said. "They are in front of judges and teachers who are specially trained in their area and the comments and tips they receive not only help students, but us as teachers, too."
Congratulations to the following students:
Outstanding rating:
Jack Abdul-Snare Drum- Level 3

Gavan Burlingame-Trombone- Level 1

Machk Hornicek-Flute- Level 3
Excellent rating:
Max Abdul-Trumpet-Level 3

Addison Brady-Voice-Level 2

Micah Brady-Voice-Level 4 and Alto Sax Level 2

Maliah Dorsey-Voice-Level 4

Oleksii Stopiatiuk-Voice-Level 3
All-State:
Gabrielle Greco-Soprano-Level 6 (A+ score of 100)
"I am incredibly proud of each and every one of our musicians who took part in the NYSSMA festival this year, no matter the score," said Mr. Gunn. "What they did is something they will remember and I hope they are proud of themselves."
Mrs. Ballard agreed. "Our students did a fantastic job and should be commended for going above and beyond. We are so very proud of their hard work and commitment to the program and look forward to watching them grow as musicians."